How to Get Started
Purchase a Membership or Punch Card
So you have decided to start CrossFit with us. Select a pricing option that best suits your needs.
doneMembership (recommended)— With a membership, you may attend a set number of classes within a 4 week period. You have the option between 12 and 16 classes, which is 3 and 4 classes per week respectively. The membership automatically renews every 4 weeks, until you cancel. No annual or long term contracts. 30 day cancelation notice required.
donePunch Card— A punch card is valid for 3 months or until all classes are used up, and it does not automatically renew.
View more details about our pricing options.
If you are unsure what's best for you, we'll gladly give you a recommendation based on your fitness goals. Call us at 201-503-6326 for a chat.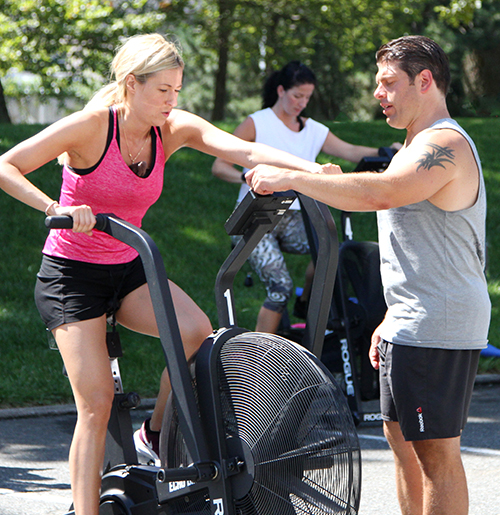 We seamlessly integrate with your digital lifestyle. For the best experience, download the following two apps from your phone's app store:
done

"Mindbody" app— Quickly and easily manage your class sign-ups.

done"CrossFit Secaucus" app— Get a sneak preview of the day's workout, so you know what extra equipment to pack (i.e. jump rope, running sneakers)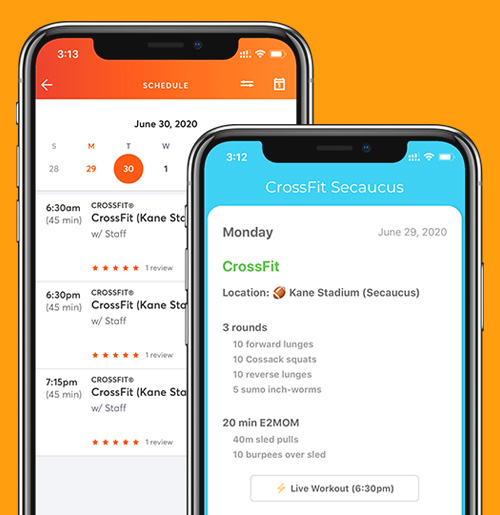 Attend Your First Workout
It's finally here! Your first workout. Be sure to book yourself for the desired class time in the Mindbody Connect app and arrive at least 10 minutes before class start.
Your trainer will know that it's your first day and help you get settled in.
No need to be nervous. The workout will be the right amount of difficult, and you will feel accomplished for having championed the workout.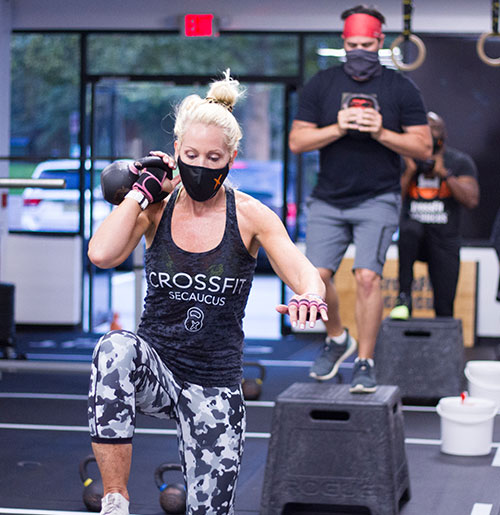 It's time to get your training routine kick-started again with safety in mind.
PRICING
Whether you are ready to commit or if you want to keep it casual, we have both options for you.
Membership
$15/class
12 classes included
$180 per 4-weeks
Renews every 4 weeks
Purchase
Membership
$12.50/class
16 classes included
$200 per 4-weeks
Renews every 4 weeks
Purchase
Need more classes before the 4 weeks are over? Purchase extra credits at your per-class rate.
Automatic payments every 4 weeks until you cancel. 30-day cancellation policy applies.
Schedule
Monday
Tuesday
Wednesday
Thursday
Friday
Saturday
6:00 am
6:00 am
6:00 am
6:00 am
6:00 am
 
6:45 am
6:45 am
6:45 am
6:45 am
6:45 am
 
 
 
 
 
8:00 am
9:00 am
9:00 am
9:00 am
9:00 am
9:00 am
 
 
 
 
 
 
10:00 am
 
5:45 pm
5:45 pm
5:45 pm
5:45 pm
5:45 pm
6:30 pm
6:30 pm
6:30 pm
6:30 pm
6:30 pm
7:15 pm
7:15 pm
7:15 pm
7:15 pm
 
Monday — Friday
Saturday
6:00 am
 
6:45 am
 
8:00 am
9:00 am
 
 
10:00 am
5:45 pm
 
6:30 pm
7:15 pm
Location
As of September 1, 2020, we are holding indoor classes at the CrossFit Secaucus facility.
For the safety of our athletes, we strictly follow the guidelines for sanitizing, 25% capacity and face coverings.
Furthermore, during class each athlete has their own properly-spaced workout station with their own equipment and EPA-certified sanitizing wipes for their convenience.

Address: 333 Meadowlands Pkwy, Secaucus, NJ 07094 (
Directions
)
What is CrossFit
CrossFit is a training program that builds strength and conditioning through extremely varied and challenging workouts. In other words, it will help you burn fat and tone your muscles.
CrossFit takes all aspects of fitness and sports, cherry-picks the best and most effective, and crafts them together into exciting workouts.
CrossFit consists of functional movements as they are so beneficial for all ages. Functional movements are those that mimic actions you perform in your day-to-day life: carry groceries, pick up a baby or chair off the ground, climb stairs, get out of bed.
Furthermore, CrossFit workouts are so effective because of their emphasis on the elements of load, distance and speed, which help athletes develop high levels of power. The workouts utilize different equipment to accomplish this, including dumbbells, kettle bells, rowers and air bikes, medicine balls, jump ropes, rings and plyo boxes.
Each day the workout will test a different part of your strength or conditioning, not specializing in one particular skill, but rather with the goal of building an athletic body that's capable of practically anything and everything.
The 45-min classes consist of a small group of athletes with one or two trainers, who teach safe movement patterns, explain the workout of the day, and modify the workout based on each individual athlete's abilities.
You don't have to be in shape to start CrossFit. All you need is the desire to improve yourself, and our trainers will be there to guide you to your goals.
I got bored working out at the gym by myself so I started going to Crossfit Secaucus to get motivated and now I am hooked. I feel great after a training session and have tons of energy since I've started.

Love it! CrossFit Secaucus is a great place to get my workout done, decompress after a stressful day and have some good chats with my fellow CrossFitters. Every workout is challenging me to push my limits.

Since I joined, I have made tremendous progress in my strength and endurance. The coaches push me to be a better athlete and reach my goals without compromising safety.

Crossfit has changed me; not only am I in the best shape I've ever been in, stronger and more confident, but I am mentally tougher too! There's nothing I can't do (that's how I feel anyway)!

I was extremely nervous about CrossFit after I signed up and thought, what did I get myself into?! It was very intimidating at first, but as soon as Rob started the fundamentals class, I felt comfortable right away! I am so, so happy I stuck with it!

I joined CrossFit Secaucus back in March, 2015. I was hooked from the start! Coaches Rob and Manuel have infinite patience with someone who had no such experience with CrossFit techniques.

The coaches are excellent in motivating and making sure all members got in a great workout, no matter what the fitness or experience level was. I won't be lying if I say I look forward to that one hour of session at CrossFit Secaucus everyday!

Can't say enough good things about CrossFit Secaucus. Both Coaches Rob and Manuel are excellent trainers. Even in a full class they pay attention to everyone. Joining CrossFit Secaucus has been my best decision of 2018.

Previous
Next
Get in Touch
phone
Give us a ring or text us at:
(201) 503-6326
pin_drop
We are located at:
333 Meadowlands Pkwy
Secaucus NJ 07094